5 Life-Changing Tips For Flying With Your Dog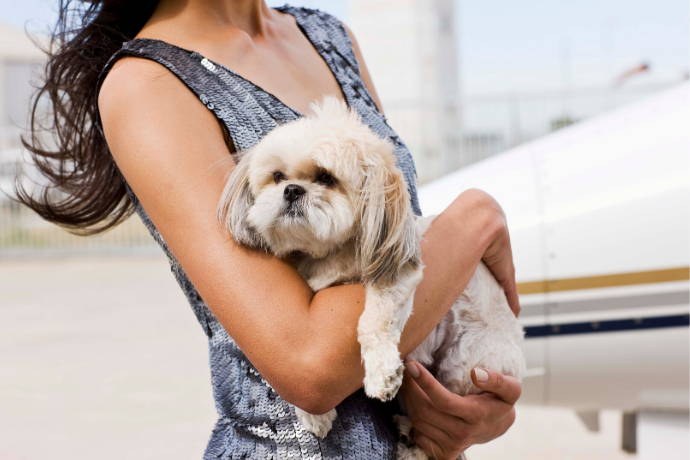 Stop flying with your dog until you know the specifics! Taking your dog with you on a flight can prove to be very costly and complicated. Along with that, many airlines charge extra fees just to hold your dog and they might even have restrictions depending on what type of dog you have. So if your 'perfect trip' involves taking your dog along, you should do the proper research beforehand to make traveling a whole lot easier. Here are 5 great tips to get you started!
1. Notify the airline in advance
As briefly mentioned above, each airline has different dog travel policies in regard to permitted breeds, seat selection, and health requirements. One thing that you might not know is that dogs may only be able to connect through certain airports. Airlines also restrict the number of dogs you can take on board as carry-ons. So you should always contact the airline you plan on flying with in advance to notify them that you plan on traveling with a dog. We recommend contacting them before booking flights just so that you can understand what they do and don't allow.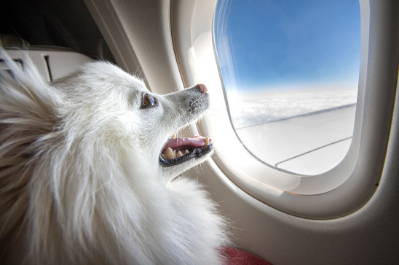 2. Time your flight
Airlines are also required to restrict dog travel if there is going to be extreme heat or cold along your travel route. When you're planning that 'perfect trip', you can reduce your dog's exposure to the elements by timing your flight appropriately. A good rule of thumb is in the summer months, fly early in the morning when temperatures aren't as hot and fly mid-day in the winter when temperatures on the tarmac are warmer. All dogs fly in pressurized cabins so timing your flights can help keep your dog as comfortable as possible.
3. Avoid aisle seats
If you plan on taking your dog into the main cabin with you, you have to keep them in a pet carrier at all times. However, service dogs and emotional support dogs can be exempt from this rule. Usually, the middle seat or the window seat will have more under-seat storage. These few extra inches can either make or break whether your carrier fits underneath. Although you might have to give up some extra leg room, being away from the aisle may also keep your dog calmer as there is less activity. A quiet dog means less stress for you and the other passengers on the plane.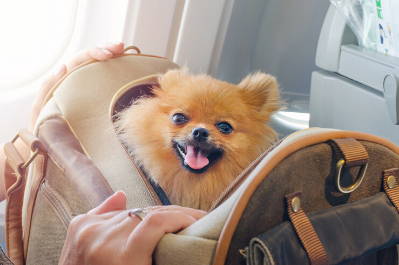 4. Use a soft-sided pet carrier
Airlines do allow both soft-sided carriers and hard-sided carriers. However, a soft-sided carrier will give you a little bit more flexibility and is more forgiving if worst comes to worst. In order to bring your dog on board in a carrier, there has to be enough room for your dog to stand up and move around with ease. They also have to be well ventilated and leak proof. If you plan to have your dog in the cargo area, the only option is a hard-sided carrier. To save time at check-in, you can attach a bag of food to the top of the carrier with feeding instructions. Each airline may have extra requirements.
5. Exercise your dog before boarding
If you exercise your dog beforehand, it can be a great help with keeping them calm while on board. Being in a carrier for a long time can make your dog restless, so let them out before boarding and let them tire themselves out a little bit, but make sure to keep control of them with a leash and harness. If your dog is excessively barking or whining, airlines can still refuse to board you with a dog. You can let your dog out of their carrier once you pass through airport security or at pet relief areas. These are great times to feed your dog or give them something to drink. However, as each dog travels differently, you may want to abstain from feeding them before takeoff to minimize their chance of getting motion sickness.
Flying with dogs adds a lot of extra steps to your traveling journey, but planning ahead will help you and your dog to stay calm. After all, a little extra effort can create a stress-less flying experience that is worth making the effort for.
You might also like:
5 Tips For Finding A Dog Sitter That Will Care For Your Pup As Much As you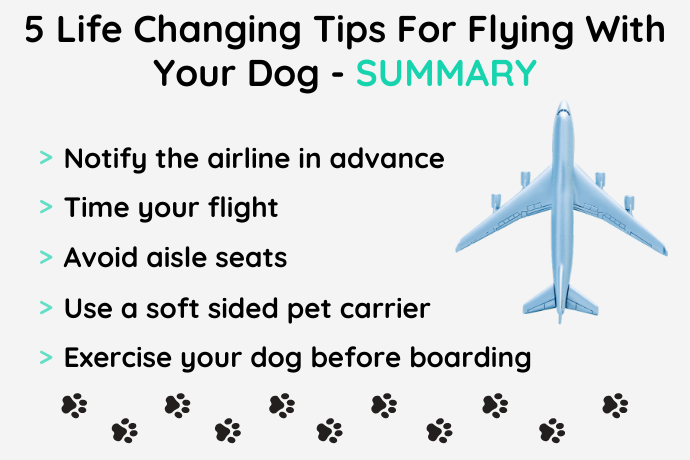 ---
We ship domestic orders from our USA warehouses so you can get it fast, for free!
60-day Risk Free Warranty
Try our products risk-free with our 60-day warranty. We also offer free exchanges and returns for up to 60 days.
US-Based Customer Support
Contact us 24/7 to get support. Our service team is standing by. We're here to help!