6 Important Safety Tips For Walking Your Dog In The Snow
Winter is almost upon us! For those of us that live in freezing winter temperatures and harsh conditions that include snow, ice, and freezing winds, walking dogs outside can become quite a challenge. Although some of us might get excited when we see snow, it presents new obstacles that make things difficult and often dangerous for our furry companions. And as much as we want to stay inside where it's cozy, skimping on winter walks can have a negative impact on our dog's behavior. That's why we always want to make sure and keep the dogs safe and as comfortable as possible while on cold, snowy walks. So here are 6 important safety tips to use while walking dogs in the snow!
1. Humans and dogs should layer up
A common misconception with dogs is that their fur coat alone will keep them warm while out in freezing temperatures. This is just not the case! Just like us, dogs need some extra layers to ensure that they stay warm. While different dog breeds do have different tolerances for snow, it is your responsibility to do the research before taking them out into it. Bigger dogs tend to have higher tolerances than the smaller dogs. So if you have a Chihuahua, they might not be able to handle the cold as well as if you had a Husky. If you're not sure about your dog's tolerances, it's best to just play it safe. There are a plethora of comfy coats available for dogs of any breed that are easy on and off. If you decide to get one, take measurements beforehand and make sure that it will have a good fit on your dog.
2. Shovel and use pet safe ice melt
Before heading out, shovel the driveway or walkway from your house. This is mainly to make things a little bit easier on yourself but it also helps your dog a great deal. Even though they're on four legs and have more stability, they can still slip on icy walkways. If you want to ensure that all the ice is gone before leaving, there are pet safe ice melts that can help out. It's especially important that you don't use regular ice melts because this can cause a reaction between the salt and ice that will end up burning your dog's paws. These burns can become severe if not removed right away. So if this does happen, make sure to run back inside and wash their paws off.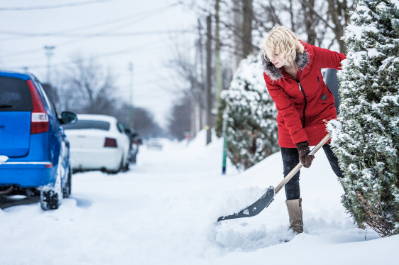 3. Use foot, hand, and paw protection
On the topic of ice melts, paw protection is very important to keep dogs safe from regular ice melts that other people might use on their streets and sidewalks. Dog booties or paw wax are great options that will keep your dog's paw pads from suffering. While it is important to guard their paws from frostbite, they need protection from salt even more than snow and ice. This goes for humans as well. Sometimes your hands or feet can start to go numb from the cold. You may not know it, but if you're holding a leash where your hand is exposed, then you are in danger. Always wear gloves that guard against snow packing in or getting your hands wet.
4. Provide plenty of water
Just like in the summer months, you need to have enough water on hand to keep both you and your pooch hydrated. Especially in the winter, dehydration can sneak up on us and our dogs. Sometimes we don't realize how much we sweat in winter gear, and dogs tend to pant a lot when working out, which gives off a lot of moisture. This can lead to dehydration rather quickly. That's why it's important to drink plenty of water before, during, and after walks. However, eating snow is not a very good idea because it can hide waste and bacteria. It is usually salty from all the ice melt spread around the streets as well. This can lower your dog's core body temperature but more importantly can make them sick or even more dehydrated.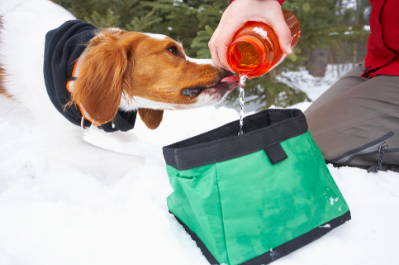 5. Watch out for waste
Speaking of waste, snow is an easy way to hide waste. Some dog parents think that waste will just dissolve with snow, but it doesn't. In fact, as the snow melts, all of that waste becomes very apparent, and it's a huge public health concern, as it attracts rodents and spreads bacteria and disease. It's a good idea to always pick up after your dog, especially in the snow. Be sure to keep an eye out for the waste piles of other dogs. If your dog comes into contact with one of these piles, it is very easy to catch another dog's sickness.
6. Keep towels by the door
If you hate when your dog brings a mess into the house, you should keep a dry towel or two by the door. Before they can run off and make a mess, you can dry them off and keep them warm with a towel. This is a great way to knock off some of the snow that gets caught in your dog's fur, which can keep your dog cold for a lot longer after you're done with the walk. If snow is stuck in their fur, it can cause them to lick, chew, or scratch at themselves to remove the snow. This isn't good and can irritate the skin which may already be dry from the cold weather.
Let us know what other tips your for walking dogs in the snow. We'd love to hear your feedback! ❤️️
You might also like:
7 Of The Best Ways To Prevent Your Dog From Making A Mess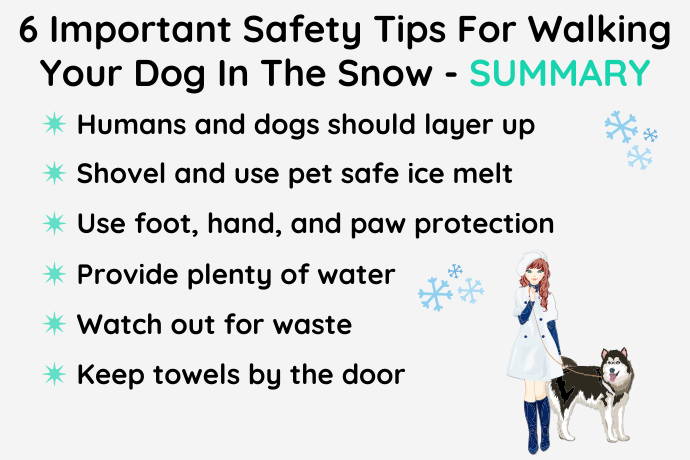 ---
We ship domestic orders from our USA warehouses so you can get it fast, for free!
60-day Risk Free Warranty
Try our products risk-free with our 60-day warranty. We also offer free exchanges and returns for up to 60 days.
US-Based Customer Support
Contact us 24/7 to get support. Our service team is standing by. We're here to help!